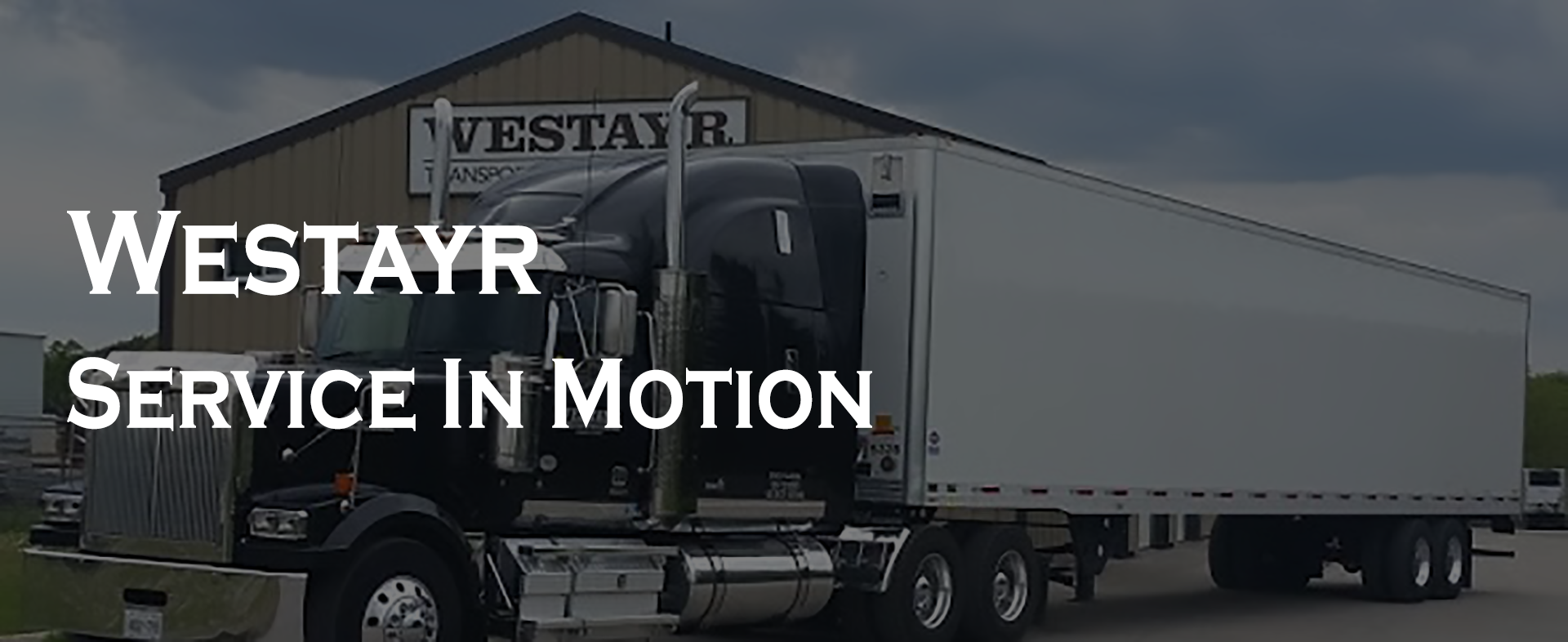 Westayr
Family owned company for 30 years
Westayr is a mid-sized Canadian trucking company offering all types of trailers, dry vans, reefers, flatbeds etc. We will ship all over Ontario, as well as all provinces across Canada, and all points in the United States.
As of 2018 we have expanded into a 3 Party Logistics Company, and have added two qualified and dependable Freight Brokers to our team.
Objective
Westayr strives to get your product where it needs to be, on time, with a competitive price.

No order is too big or small, your challenge is our specialty!

You need it there, we'll get it done.
Capabilities
Canada – Victoria to St John's
United States – Cross-border, all points contiguous USA
Appointment accommodating
Tradeshows
Driver assist
Oversized
Hazmat
Tarps / Rolltite
Rush / Same day
Courteous, professional drivers
Logistics 101
As Westayr is a small, family run business, we believe in honest communication between all parties. This is, after all, the key to building a strong, trusting and dependable business partnership. Our email is monitored constantly, and we provide our customers with human reception when answering the phone. Never will you have to guide your way through an automated system to get the answers you are looking for!
We understand the need for trust and dependability. Our customers, and in turn, their customers, should have the utmost confidence when their product is placed in our capable hands. Anything less is unacceptable!
Equipment
Logistical Dry Van Trailers
Refrigerated Trailers
Flatbed / Stepdeck / Rolltite
Straight trucks
Tailgate
Sprinter Vans
Size and Space
FTL – Full loads, delivered on time, with a competitive price
LTL – Less than load, 1 box, to just short of FTL
Oversized – Flatbed, with escorts if need be
Testimonials
We would like to take this opportunity to express our sincere appreciation to Westayr Transportation Systems for their outstanding dedication to customer service and deliveries for our company. We have been a customer since 2012 and would like to applaud you that your employees are dedicated to seeing our orders through to the end; from booking, tracking and invoicing. We have had the extreme pleasure of dealing with Mike Lambert, he has always been available no matter how small the issue may seem. We don't have to search too far or wait for a phone call from him as he is always there to help us. Over the years we have built not only a strong working relationship with him and his company, but have become reliant on Westayr Transportation Systems to freight all of our loads into the United States and Canada. We will continue to be a long time customer based on the strong customer service and dedication that Westayr provides us.